Unfortunately, Week 5 brought more major injuries. It also included a rare early-October GM firing. Here are some odds and ends, and grades, for every NFL team exiting the NFL's fifth Sunday — along with a look at the bevy of teams that did not play Sunday.
1 of 32
Carolina defense ahead of schedule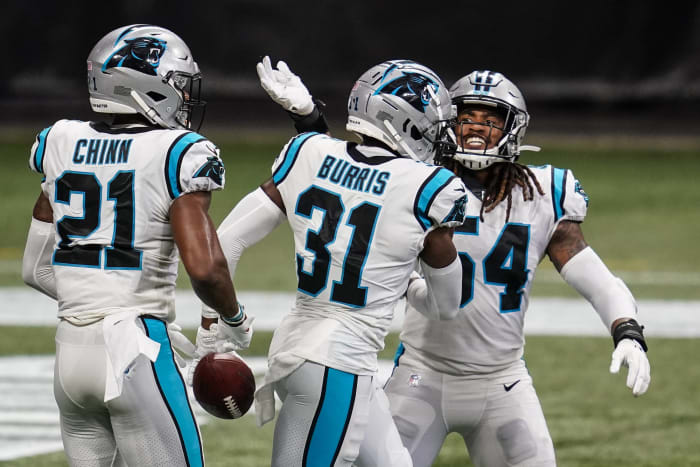 Dale Zanine-USA TODAY Sports
A list of the defensive personnel the Panthers lost this year: future Hall of Famer Luke Kuechly, No. 1 cornerback James Bradberry, steady sack man Mario Addison and former Pro Bowl defensive tackles Dontari Poe and Gerald McCoy. Carolina entered Sunday with starting cornerback Eli Apple on IR and lost corner Donte Jackson and D-end Brian Burns during the game. Buoyed by journeyman Juston Burris' end zone INT, the Panthers (3-2) held the Falcons to their lowest point total in this series (16) since 2015. First-year NFL coordinator Phil Snow's defense, which kept Kyler Murray in check last week, has been one of the NFL's bigger surprises.
PANTHERS GRADE: B-plus | NEXT: vs. Bears (Sun.)
2 of 32
Full-on restart in Atlanta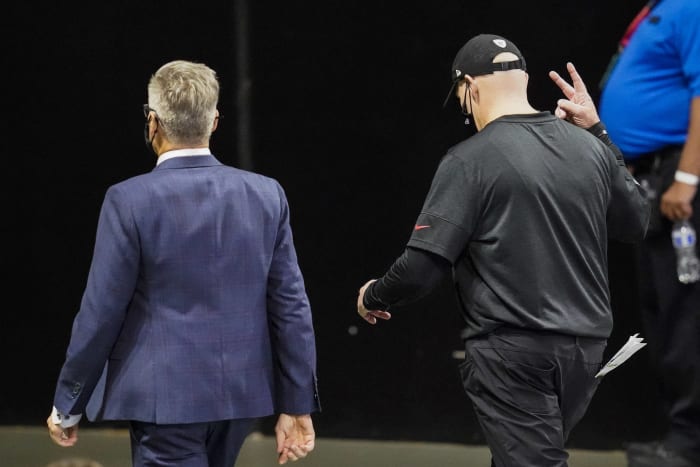 Dale Zanine-USA TODAY Sports
Thomas Dimitroff was in his 13th season as Falcons GM. He drafted Matt Ryan, traded up for probably the best player in team history in 2011 (Julio Jones) and was there for three Falcons playoff byes. The team has declined since its Super Bowl LI collapse and is 14-23 since 2018, but the early-season GM firing is a bit of a surprise. Dimitroff's ouster moves the franchise closer to a restart — which separates this from merely Dan Quinn being axed. Ryan is now 35; will he be part of the next era? If the Falcons do not land Trevor Lawrence, will they make a play for a QB? A franchise that has not rebuilt since 2008 appears set to do so.
FALCONS GRADE: D-plus | NEXT: at Vikings (Sun.)
3 of 32
Wentz-Ertz disconnect clouds TE's Philly future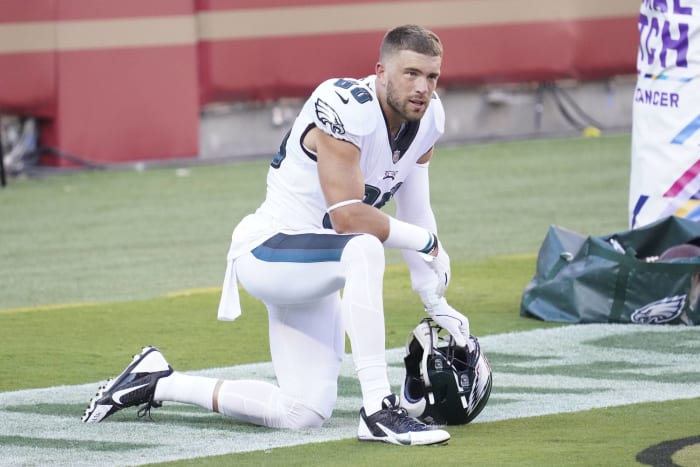 Kyle Terada-USA TODAY Sports
The Carson Wentz-to-Zach Ertz connection's issues have forced random wide receivers to the forefront. The Pro Bowl tight end submitted a second straight sub-10-yard performance and has not helped the again-in-wideout-disarray Eagles (1-3-1) during a stretch without Dallas Goedert as well. One of the many Eagles nearing 30 or just north of that notable benchmark, Ertz (30 in November) has amassed just 145 receiving yards in five games. He was seeking George Kittle- or Travis Kelce-level money amid tense negotiations this summer. Wentz's former go-to guy will struggle to approach that at this point.
EAGLES GRADE: D | NEXT: vs. Ravens (Sun.)
4 of 32
Chase Claypool's expected breakout arrives early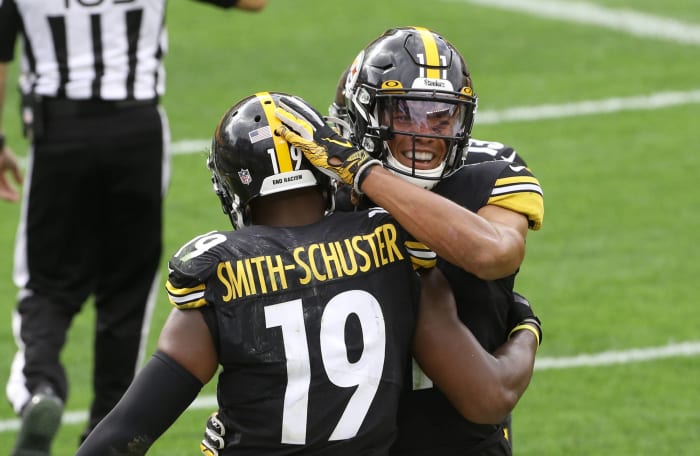 Charles LeClaire-USA TODAY Sports
Steelers viewers could have predicted a Claypool emergence, but the team's receiver depth had limited his chances. The second-round pick changed the equation Sunday, dominating the Eagles for seven catches, 110 yards and a Steelers rookie-record four total touchdowns. No team approaches the Steelers in receiver development, and their latest find — Notre Dame's 6-foot-4, 238-pound monster with a 4.42 40 time — could have a rare ceiling that surpasses most of the team's previous Day 2 wideouts finds'. Claypool has quickly become Pittsburgh's most exciting pass catcher; his rapid emergence makes this an elite NFL position group.
STEELERS GRADE: A-minus | NEXT: vs. Browns (Sun.)
5 of 32
Rams' peerless defensive tackle wrecks Washington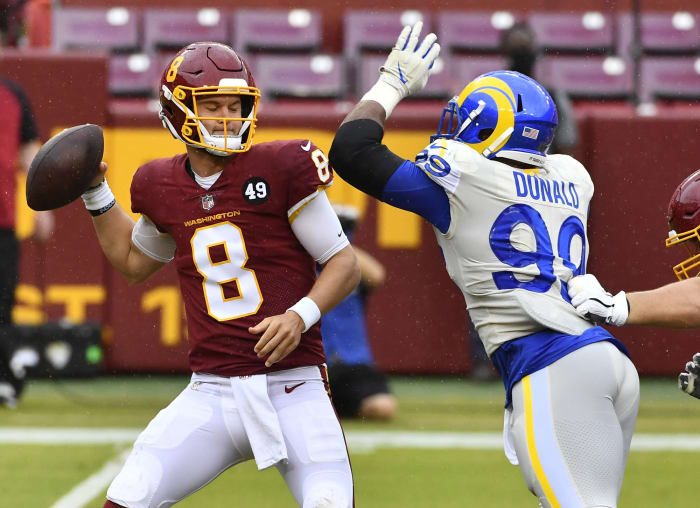 Brad Mills-USA TODAY Sports
Do not take Aaron Donald for granted. The Rams have a player on pace to be a top-10 all-time NFLer. Now 29, the five-time All-Pro remains the league's premier talent; he interrupted Washington's feel-good Alex Smith story Sunday. Donald made Washington second-year left guard Wes Martin's day miserable, blowing past him for three of his career-high four sacks. (He beat Washington's other current blocking Wes, right guard Wes Schweitzer, for his fourth sack.) Helping the Rams (4-1) to an eight-sack day and NFC East sweep, Donald (7.5 sacks) is the clear Defensive Player of the Year frontrunner. Only Lawrence Taylor and J.J. Watt have won the award three times.
RAMS GRADE: A | NEXT: at 49ers (Sun.)
6 of 32
Unfathomable comeback will make ugly game live on
Brad Mills-USA TODAY Sports
Smith's contract essentially mandated Washington keep him on its 53-man roster, but it still did not look like the historically resilient quarterback would play again. Discarding a 9-for-17, 37-yard performance that included Smith taking six sacks, the 36-year-old quarterback completed one of the great comebacks in NFL history Sunday. A tribute to modern medicine — after overcoming 17 surgeries since his Nov. 2018 leg fractures — Smith does not factor into Washington's long-term plans. But clips from this one-sided game will be replayed for a long time because of Smith's appearance.
WASHINGTON GRADE: D-minus | NEXT: at Giants (Sun.)
7 of 32
Cardinals' defensive formula now looks dicey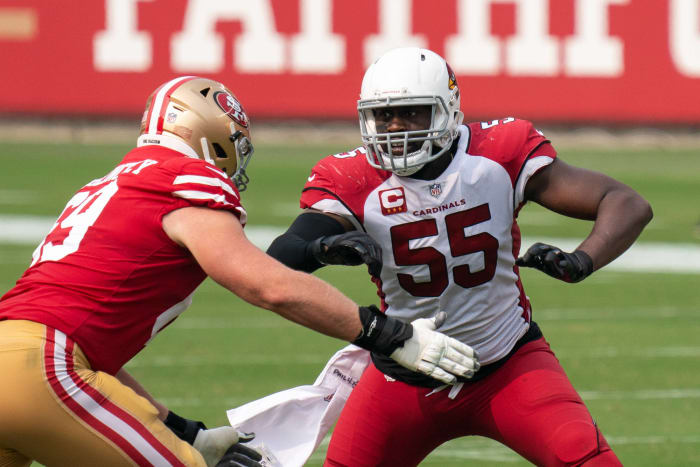 Kyle Terada-USA TODAY Sports
The rare player to peak after a Patriots exit, Chandler Jones has put himself on the Hall of Fame radar in four-plus Cardinals seasons. Since being traded to Arizona in 2016, Jones has an NFL-most 61 sacks. Among edge defenders, Jones' 61 QB drops are 12 more than anyone else in that span. The likely season-ending biceps injury the 30-year-old defender suffered could reduce the Cards from fringe 2020 contender to entertaining developmental team. The Cardinals (3-2) obliterated the Jets but entered Sunday 23rd in pass-defense DVOA with Jones. Their window pointed toward 2021 anyway; Jones' absence will make their 2020 mission perhaps futile.
CARDINALS GRADE: A-minus | NEXT: at Cowboys (Mon.)
8 of 32
Jets' defensive rebuild will take a while
Vincent Carchietta-USA TODAY Sports
Certainly not expected to beat the Cardinals without Sam Darnold, the Jets allowed Kyler Murray to reach a career-high 380 passing yards — after his 133-yard day against the Panthers. The Jets were not supposed to feature a good defense this season; they traded Jamal Adams and saw C.J. Mosley opt out. Three of the Jets' defensive starters are over 30; four more are set to be free agents in 2021. New York, 0-5 for the first time since 1996, has lost by two scores each week and allowed 27-plus points in each contest. On the defensive side, second-year GM Joe Douglas' rebuild has barely started. 
JETS GRADE: F | NEXT: at Dolphins (Sun.)
9 of 32
A.J. Green's Bengals tenure winding down?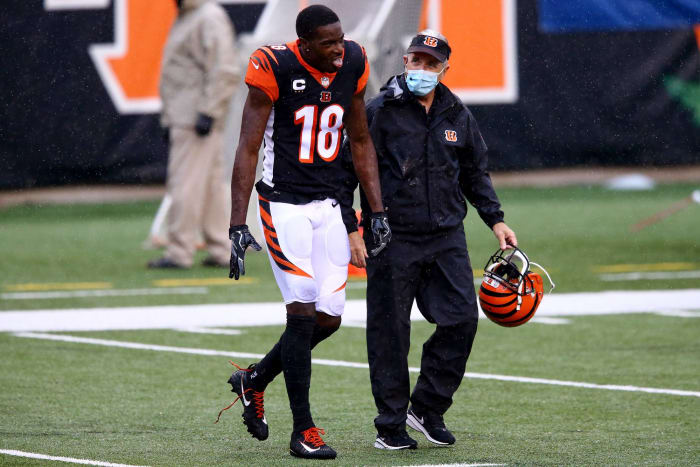 Kareem Elgazzar via Imagn Content Services, LLC
The Bengals (1-3-1) are not receiving their money's worth from their franchise-tagged wide receiver. While Green protested the $18.2 million tag, as it kept him off the market at age 32, the 10th-year wideout went catchless in a game he played at least half of for the first time since 2014. (Green left with a minor-looking injury Sunday.) He has 14 receptions for 119 yards this season. The old-school franchise has refused to trade Green, whom it kept around to aid Joe Burrow's growth. But with rookie Tee Higgins looking like Cincy's WR2, it may be the team's last chance to obtain value for Green.
BENGALS GRADE: F | NEXT: at Colts (Sun.)
10 of 32
Ravens continue to coast despite uneven offense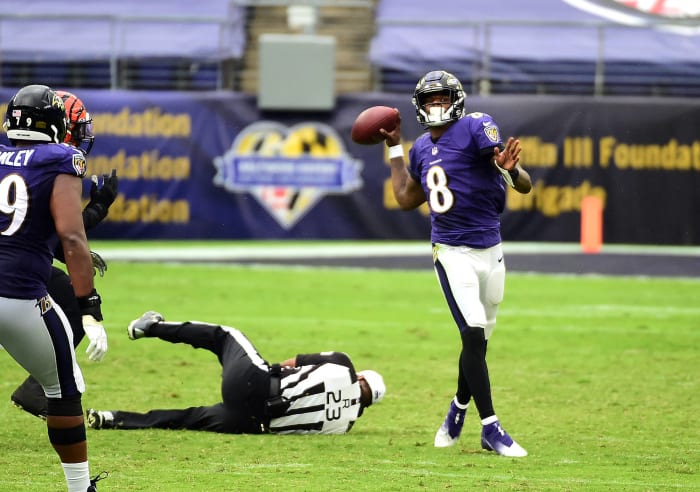 Evan Habeeb-USA TODAY Sports
The Bengals did well to contain Lamar Jackson, holding the reigning MVP to a 19-for-37 day and 4.9 yards per attempt. The Ravens defense has made Jackson dominance unnecessary thus far, but it is safe to say their offense has lacked the flash of 2019. Jackson, who did appear on Baltimore's injury report this week, rushed for just three yards — by far his lowest in a start if last year's outing against a hapless Dolphins secondary is discarded. With Weeks 8-10 featuring games against the Steelers, Patriots and Colts, the Ravens (4-1) will soon need to see better form from their centerpiece player.
RAVENS GRADE: B-minus | NEXT: at Eagles (Sun.)
11 of 32
Raiders stop Mahomes from igniting Big 12-level shootout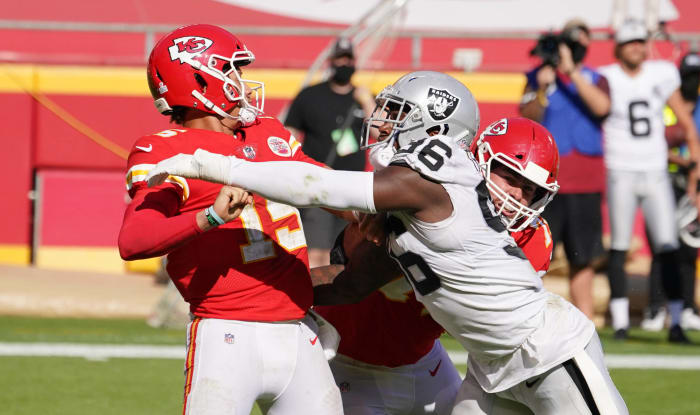 Denny Medley-USA TODAY Sports
The rivals' 24-all halftime score surely had Patrick Mahomes' fantasy GMs giddy for a potentially nuclear stat line. While the Chiefs superstar did throw for 340 yards, the Raiders (3-2) stopped the NFL's top quarterback from his usual routine against them. Las Vegas' defense generated 23 pressures — the second-most Mahomes has faced — while forcing 21 incompletions and a key INT. The frequently maligned Raiders defense, which was missing a few pieces, stopped Mahomes from a fourth straight blowout in this series and gave the visitors their first win over the Chiefs in Mahomes' tenure.
RAIDERS GRADE: A | NEXT: vs. Buccaneers (Oct. 25)
12 of 32
Steve Spagnuolo's defense slips up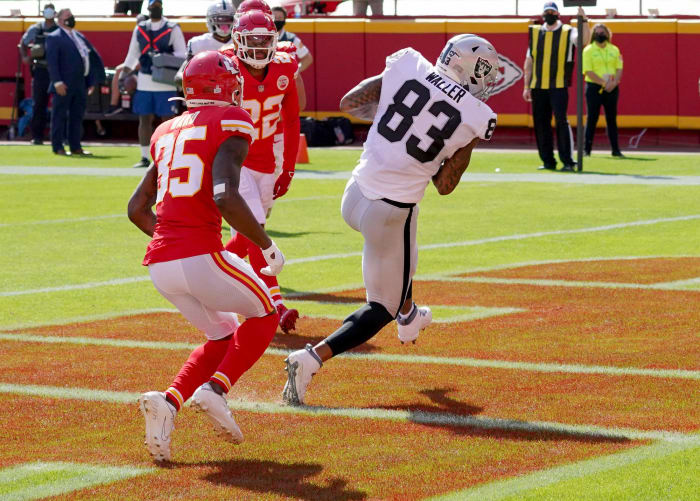 Denny Medley-USA TODAY Sports
While Mahomes catalyzed the Chiefs' 13-game (counting playoffs) win streak, Spagnuolo's defense settling in as a reliable unit backed the dominant QB. That did not occur Sunday, with the Raiders tagging a healthy Chiefs defense for 490 yards — the most they have yielded since Tom Brady lit up previous defensive coordinator Bob Sutton's group in October 2018. The Chiefs (4-1) gave up four 40-plus-yard pass plays to one of the NFL's most conservative QBs and could not stop Josh Jacobs to give Mahomes a game-tying opportunity. With only one AFC playoff bye available, this loss raises the stakes for the Chiefs' Week 6 Buffalo trip.
CHIEFS GRADE: C-minus | NEXT: at Bills (Mon.)
13 of 32
Third coach firing coming soon?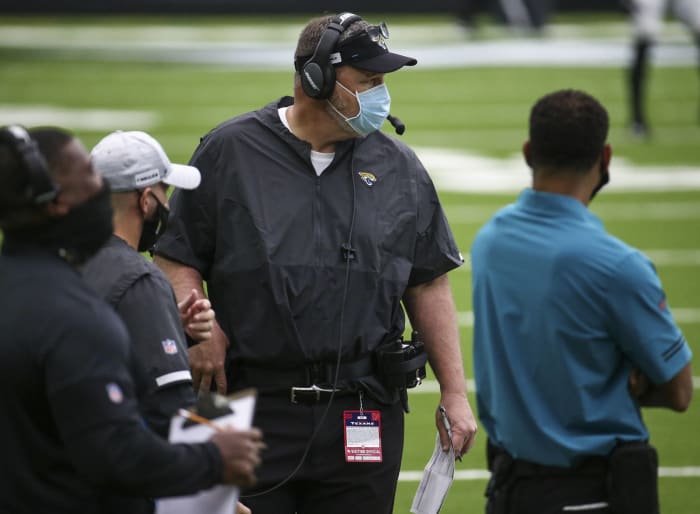 Troy Taormina-USA TODAY Sports
The Jaguars set up Doug Marrone to fail in his fourth season as their full-time head coach, and the team has now lost three straight by double figures. Gardner Minshew's competence may elevate the Jags (1-4) out of the Trevor Lawrence sweepstakes, but their woeful defense has made it difficult for the popular QB to steal wins like he did last season. Marrone will almost certainly be fired by season's end — after being given Blake Bortles, Nick Foles and Minshew as his QBs, following his Bills tenure involving E.J. Manuel and Kyle Orton — but at this rate, Jay Gruden will likely return to a head-coaching job after Marrone's in-season exit.
JAGUARS GRADE: D-minus | NEXT: vs. Lions (Sun.)
14 of 32
Bill O'Brien trade piece comes alive — post-O'Brien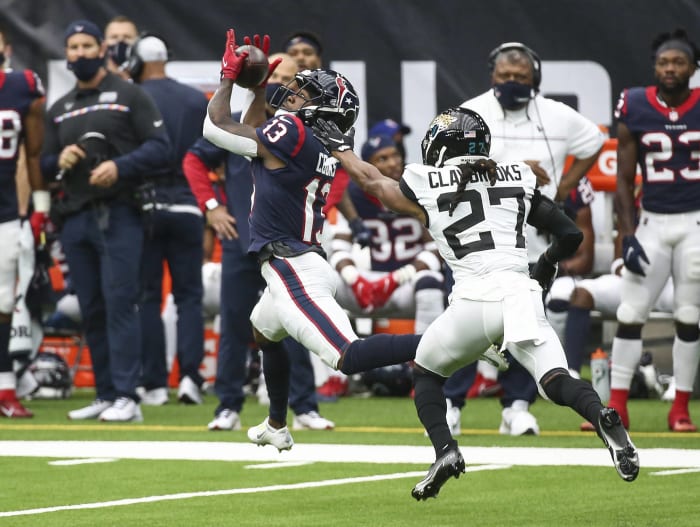 Troy Taormina-USA TODAY Sports
Brandin Cooks last hit the 160-yard threshold as a Saint — three trades and nearly four years ago. One of O'Brien's many criticized moves from his action-packed time as Houston's GM, Cooks surpassed his output under O'Brien (138 yards in four games) Sunday with 161. Deshaun Watson found the former Saint, Patriot and Ram deep threat on short- and mid-range passes, and on a nice first-quarter deep connection. Cooks, who has sustained five known concussions as a pro, absorbed a scary hit on one of his eight catches but stayed in the game and looked like a player who could be a longer-term piece for the Texans (1-4) — despite O'Brien acquiring him.
TEXANS GRADE: B-plus | NEXT: at Titans (Sun.)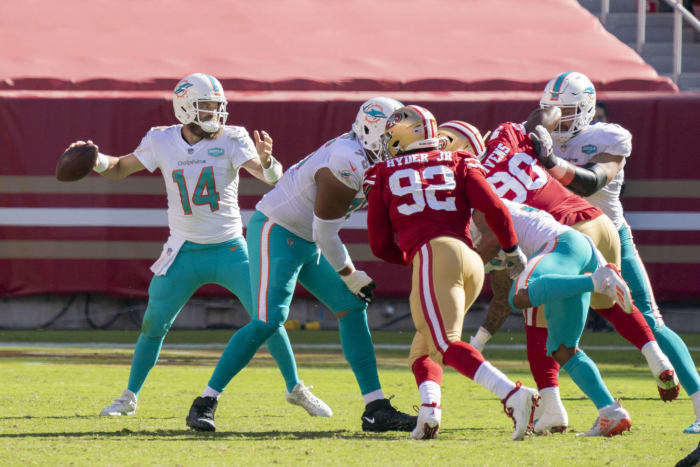 Kyle Terada-USA TODAY Sports
On his eighth NFL team and in Year 16, Fitzpatrick remains a relevant quarterback. Although the soon-to-be 38-year-old passer will likely miss the playoffs again , leading a rebuilding Dolphins team (2-3), this has been an important stretch for his career and the franchise. Despite Miami starting two rookie offensive linemen, Fitzpatrick carved up the 49ers for 350 yards and three TDs. He has undoubtedly helped the development of reformed Round 1 bust DeVante Parker and the rest of the Dolphins' supporting cast. Fitz will give Tua Tagovailoa readier versions of his weaponry, whenever the rookie takes over.
DOLPHINS GRADE: A-plus | NEXT: vs. Jets (Sun.)
16 of 32
49ers on brink of Super Bowl hangover info graphics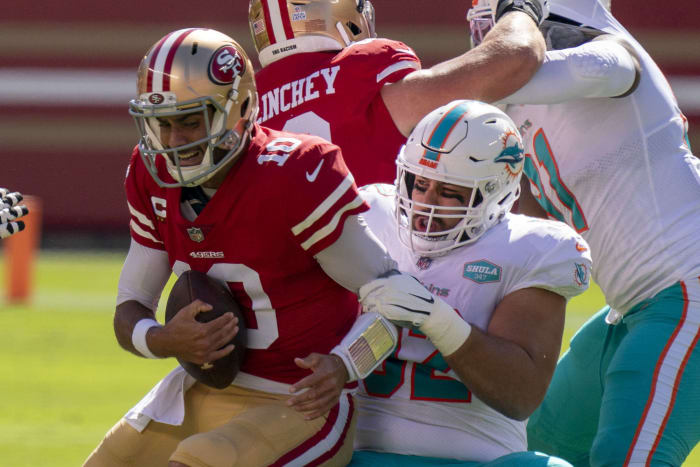 Kyle Terada-USA TODAY Sports
The 49ers allowed five sacks to one of the NFL's worst pass rushes, gave up 350 yards to a soon-to-be-replaced journeyman quarterback, saw Jimmy Garoppolo post the NFL's worst QBR figure (1.4) this season and are on the verge of enduring the worst Super Bowl hangover since at least the 2016 Panthers. San Francisco (2-3) is last in the NFC West — understandable due to extensive injury issues. The Dolphins preyed on the 49ers being down their top three cornerbacks. The 49ers' next five opponents — the Rams, Patriots, Seahawks, Packers and Saints — are a bit higher-regarded than the Dolphins.
49ERS GRADE: F | NEXT: vs. Rams (Sun.)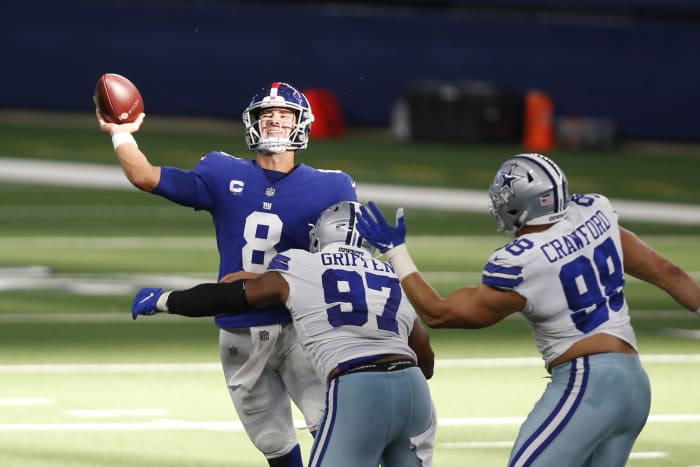 Tim Heitman-USA TODAY Sports
While they do not appear to be Jets-level bad, the Giants are barreling toward another top-five pick. If the 0-5 team continues down this path, it could set up a monumental decision. Jones did resume his rapport with Darius Slayton, but the second-year quarterback looked erratic against the Cowboys' bottom-tier defense. Only three teams have chosen first-round QBs twice in three years since 1990. The Giants surely would not pass on Trevor Lawrence — were this season to careen completely off the rails — but if Jones (27th in QBR) stays on this pace, the Giants — perhaps with a new GM — would have to consider the 2021 draft's second-best QB prospect.
GIANTS GRADE: C | NEXT: vs. Washington (Sun.)
18 of 32
Cowboys' season plunges into 'missed opportunity' territory
Tim Heitman-USA TODAY Sports
Deploying their best weaponry cadre since the 1990s' Super Bowl years, the Cowboys have now lost their quarterback and both standout tackles for the season. Dak Prescott's gruesome ankle injury — a compound fracture and dislocation — will end his run of 72 straight starts and potentially make the next round of extension talks with the Cowboys (Round 3 of said discussions) complicated. Those will be crucial, with the franchise tag system opening no door for a third Prescott tag in 2022. Andy Dalton is the NFL's most qualified QB2, and while the Cowboys (2-3) could certainly win the NFC East, they have gone from Super Bowl contender to bracket filler at best in five weeks.
COWBOYS GRADE: B-minus | NEXT: vs. Cardinals (Mon.)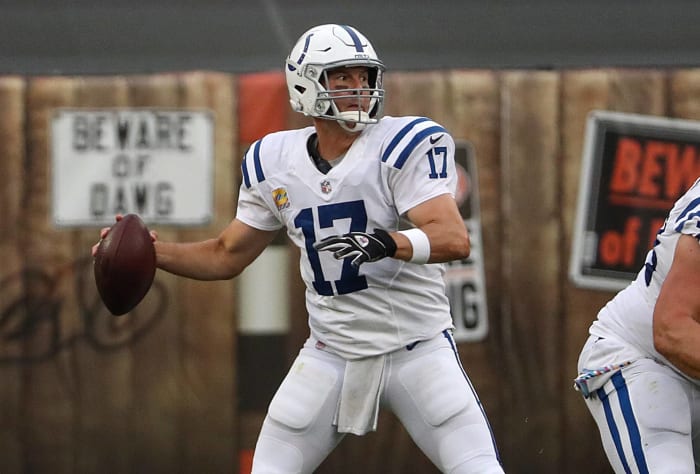 Jenna Watson/IndyStar via Imagn Content Services, LLC
Seeing supporting-cast injuries pile up the same way they did during his final Chargers seasons, Rivers underwhelmed in a big spot Sunday. The Colts signed the potential Hall of Famer to help them in situations like their Cleveland predicament — down two scores in the third quarter — but Rivers' two INTs (one a pick-6) and end zone intentional grounding infraction made Indianapolis' $25 million investment look shaky. The Colts still appear to have narrow roads to victory over quality competition. Games in which their oft-hyped run game cannot surpass 70 yards create too much for their 38-year-old QB to handle at this career stage.
COLTS GRADE: C-minus | NEXT: vs. Bengals (Sun.)
20 of 32
Have Browns finally made sound coaching hire?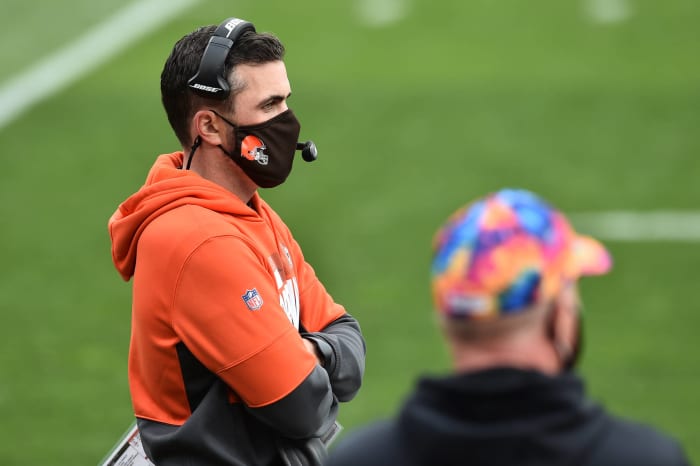 Ken Blaze-USA TODAY Sports
Featuring a lineup less talented than a few Freddie Kitchens led last season, the Browns improved to 4-1 for the first time in 26 years. Kevin Stefanski's game plan paved a well-defined route for the Browns to topple DVOA's No. 1 defense — which was missing top player Darius Leonard. Stefanski's attack put Baker Mayfield in position to utilize all his skill-position talents and post a 200-plus-yard, two-TD pass first half — enough to outgun a low-ceiling Colts offense. Stefanski steering the Browns' talents back on course was the goal; that happening thus far creates major intrigue in the rivalry-rich AFC North.
BROWNS GRADE: A-minus | NEXT: at Steelers (Sun.)
21 of 32
Despite ending, Mattison flashes for retooling Vikings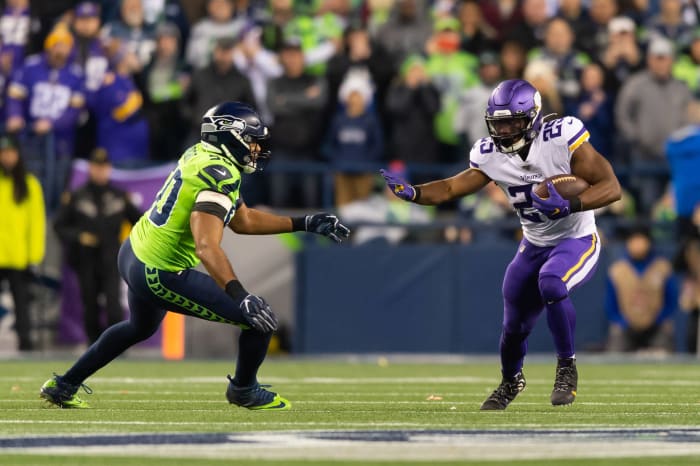 Steven Bisig-USA TODAY Sports
Alexander Mattison may well have made a poor navigational decision on the Vikings' failed fourth-and-1, game-clinching bid. But his 20-carry, 112-yard showing — upon being summoned after a midgame Dalvin Cook injury — makes the case against paying running backs. The Vikings already made their decision to pay their talented starter and are locked into Cook's deal through at least 2022, but his second-year backup has consistently shown explosiveness. Mattison's potential made it surprising the Vikings paid Cook so soon. At the very least, Minnesota (1-4) is covered while its starting back battles his latest injury. 
VIKINGS GRADE: B-minus | NEXT: vs. Falcons (Sun.)
22 of 32
Russell Wilson buying Seahawks critical time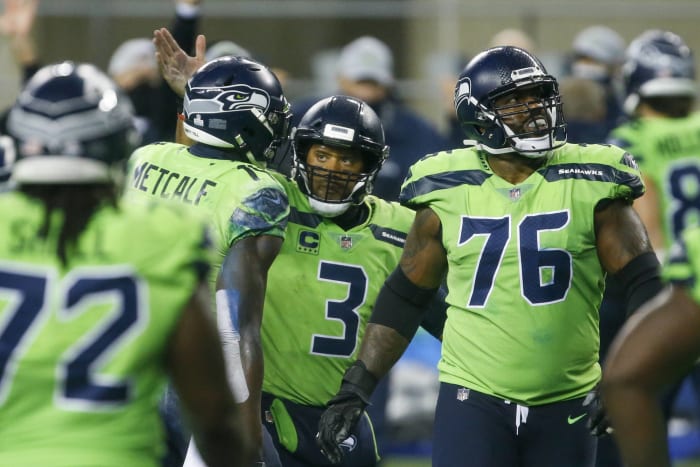 Joe Nicholson-USA TODAY Sports
The last time the Seahawks were truly a Super Bowl contender, Russell Wilson was still growing into the version that would put him on track for Canton. This roster is not on the level of the ones Wilson piloted to Super Bowls, but it has a far superior quarterback than the Legion of Boom enjoyed. It houses the MVP frontrunner. The Seahawks — 5-0 for the first time in their 45-year history — went 0-for-7 on third downs, but Wilson's 94-yard game-winning drive stole a victory. Seattle has major defensive issues, but its franchise QB continues to rescue the team. Wilson's 34 game-winning drives lead the NFL since 2012. 
SEAHAWKS GRADE: B | NEXT: at Cardinals (Oct. 25)
23 of 32
Herbert needs new backfield wingman
Joseph Maiorana-USA TODAY Sports
Among running backs who received between 20 and 99 handoffs last season, Justin Jackson held the highest DVOA figure, according to Football Outsiders. This came on only 29 totes behind Austin Ekeler and Melvin Gordon, but still. The former seventh-round pick has flashed in the past, and the Chargers (1-3) now need him after Ekeler's multi-injury Week 4. Jackson, who averaged 7.0 yards per carry and totaled 5,440 in four seasons at Northwestern, will see more work against the Saints alongside Josh Kelley. With Kelley having fumbled in each of the past two games, Justin Herbert needs Jackson to contribute immediately.
MONDAY: vs. SAINTS, 8:15 p.m. ET
24 of 32
Saints again to make do without All-Pro
Christopher Hanewinckel-USA TODAY Sports
Michael Thomas will miss his fourth straight game, doing so after missing only one in his first four NFL seasons. The Saints (2-2) suspended their two-time All-Pro wideout for Monday's matchup, and Thomas allegedly punching a teammate will sideline him for a third nationally televised game. Considering the stakes for the Saints in what may well be Drew Brees' final season, they have already seen Thomas' injury potentially cost them two games. His forthcoming absence will keep pressure on Brees, whose age-41 season has involved scrutiny he has not faced since his Chargers years.
MONDAY: vs. Chargers, 8:15 p.m. ET
25 of 32
Underrated pipeline aiding Bills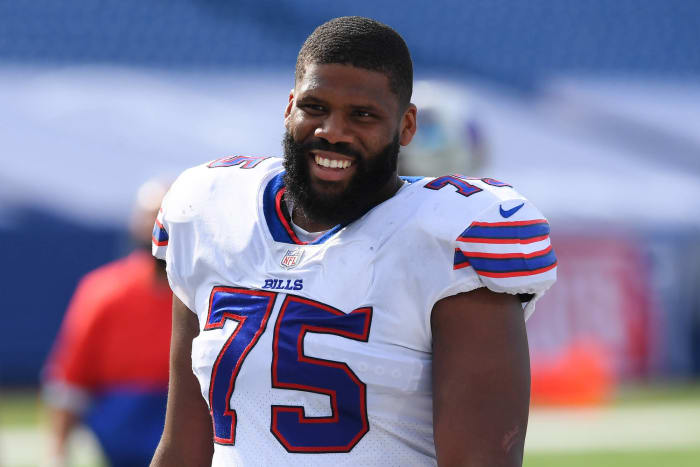 Rich Barnes-USA TODAY Sports
The Dolphins and Lions' apparent competition to see who could acquire the most ex-Patriots received more attention this offseason than a more relevant NFL pipeline. The Bills — run by ex-Panther staffers Brandon Beane and Sean McDermott — flooded their two-deep with Carolina cogs. Their investments have helped this 4-0 start. Mario Addison rates as a top-10 Pro Football Focus edge rusher, while PFF slots lower-key O-line addition Daryl Williams as its No. 9 overall tackle. Buffalo also added ex-Carolina D-lineman Vernon Butler, linebacker A.J. Klein and saw Josh Norman's debut include a crucial strip from the former Panther All-Pro.
TUESDAY: at Titans, 7 p.m. ET
26 of 32
Titans can hopefully avoid infamous NFL history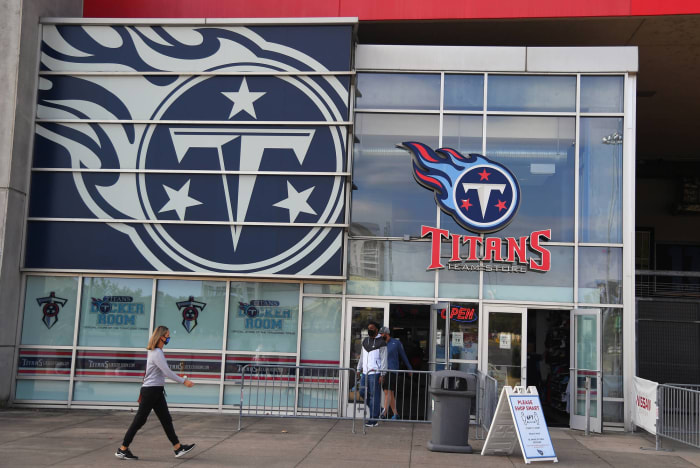 Christopher Hanewinckel-USA TODAY Sports
As of Monday morning, no new Titans positive COVID-19 tests emerged. They are on track to face the Bills in the NFL's first Tuesday-night game in 10 years. However, hiccups last week pressed pause on the team's hopes at resuming its season. Should Tuesday-morning test revelations force the NFL to move Titans-Bills out of Week 5, the Titans run the risk of not playing 16 games. The last time the NFL saw its teams play an uneven number of contests was 1935, when the Eagles and then-Boston Redskins saw snow interfere with a November contest. The Titans (3-0) are a warning for what the NFL faces in its bubble-less season.
TUESDAY: vs. Bills, 7 p.m. ET
27 of 32
Buccaneers run defense weakened
Kim Klement-USA TODAY Sports
The Buccaneers carried the NFL's second-ranked DVOA run defense into Chicago and muzzled the Bears, holding them to 35 rushing yards in Thursday's loss. Tampa Bay also carried 2019's No. 1 DVOA run defense — thanks in large part to its selection of mammoth nose tackle Vita Vea in the 2018 first round. Vea's broken leg will weaken Tampa Bay's most reliable facet, forcing the likes of Will Gholston and journeyman Rakeem Nunez-Roches to play bigger roles. While it helps having Ndamukong Suh around, the Bucs (3-2) assembled their dependable ground stoppage crew on Vea's back.
BUCCANEERS GRADE: C | NEXT: vs. Packers (Sun.)
28 of 32
Long-TE-starved Bears receiving surprise help
Mike Dinovo-USA TODAY Sports
The Packers grew to regret their lucrative Jimmy Graham contract, but after most skewered the Bears (4-1) for making a similar investment in a declining tight end, the veteran has re-emerged. While Saints Jimmy is gone, Graham has at least resembled the player who helped Russell Wilson's growth in Seattle. Graham, 33, has more TD grabs this season (four) than he did in either of his Packers slates, and his red zone contributions — most recently a one-handed catch to help the Bears upset the Bucs — have thus far validated Chicago's two-year, $16M deal. Given the Bears' QB and run-game issues, any skill-position boost is critical.
BEARS GRADE: B-plus | NEXT: at Panthers (Sun.)
29 of 32
More bad luck comes for Broncos
Vincent Carchietta-USA TODAY Sports
Already down a future Hall of Famer (Von Miller) and multiple Pro Bowlers (Courtland Sutton, Jurrell Casey) long-term, and QB Drew Lock for the time being, the Broncos (1-3) have endured a worse time than most this season. They have also drawn its worst scheduling break. The NFL has changed the Broncos-Patriots game time three times already — moving it from 1 p.m. to 4:25 p.m. Sunday (Oct. 11) to 5 p.m. Monday to 1 p.m. Sunday (Oct. 18) in Week 6 — but the third move converted a week featuring full Broncos practices to a bye. The one silver lining — a possible Lock return — might not soothe players who now do not get a true 2020 bye week.
NEXT: at Patriots (Sun.)
30 of 32
Patriots catch break but still have issues to navigate
Paul Rutherford-USA TODAY Sports
Cam Newton may end up missing only one game, with the Patriots' Week 5 contest being moved to Week 6. New England's starting quarterback has not shown reported symptoms stemming from his positive coronavirus test but has also not received test-enabled clearance to return. The Pats' latest positive COVID test — their fourth since Newton's — makes their Week 6 game against the Broncos tenuous still. It could be the Pats (2-2), and not the Titans, that make the NFL consider a makeup Week 18 or making win percentage — and not final records — the playoff barometer.
NEXT: vs. Broncos (Sun.)
31 of 32
Brady's Tampa stay provides makeup call for NFL schedule format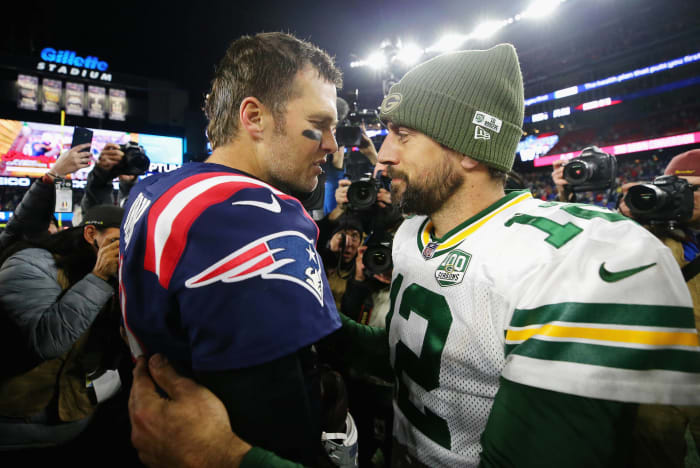 Maddie Meyer-Getty Images
The NFL's schedule format mandating AFC and NFC teams play just once every four years limited the sports world to just two Tom Brady- Aaron Rodgers matchups. (Rodgers missed the Packers-Patriots 2010 meeting.) But Brady's Buccaneers commitment allowed for a third meeting between the first-ballot Hall of Famers. Rodgers was battling a leg injury and carrying a shaky Packers team the last time these two played; the Green Bay legend's place atop the 2020 QBR hierarchy only adds more juice to this year's matchup. The Packers' 4-0 record helps too. 
NEXT: at Buccaneers (Sun.)
32 of 32
One of Lions' few bright spots
Vasha Hunt-USA TODAY Sports
The Lions (1-3) may be headed toward a regime change, but their current power structure may have hit on a third-round pick. Despite this offseason being historically disadvantageous for offensive linemen, Detroit plugged No. 75 overall selection Jonah Jackson into its starting lineup in Week 1 and has used him as a full-time starter. Detroit allowed longtime guard starter Graham Glasgow to walk in free agency, and its previous regime bailed on first-round guard Laken Tomlinson too early. PFF rates Jackson 29th among guards — a nice bonus for a mid-round pick at a difficult position to learn.
NEXT: at Jaguars (Sun.)