Albeit with two fewer games, the NFL's Week 4 Sunday unfolded and supplied a fair amount of surprises and statements. Here are odds and ends along with grades for each team from the fourth week of the season.
1 of 32
NFL a better place with Beckham in top gear
Tim Heitman-USA TODAY Sports
Odell Beckham Jr. saw peers (DeAndre Hopkins, Mike Evans) and younger talents (Michael Thomas) surpass him in stature in the late 2010s, but he may now be essential in perhaps the most relevant Browns season in over 25 years. The Beckham that scorched the NFL in the mid-2010s showed up Sunday in Dallas, scoring three touchdowns and rescuing Cleveland from a collapse. His 50-yard reverse TD led to the Browns' first 3-1 start in 19 years. With Nick Chubb potentially out of the picture for a while, Kevin Stefanski will need his top wideout to keep pace in a suddenly stacked AFC North. 
BROWNS GRADE: B-plus | NEXT: vs. Colts (Sun.)
2 of 32
Cowboys create another major problem area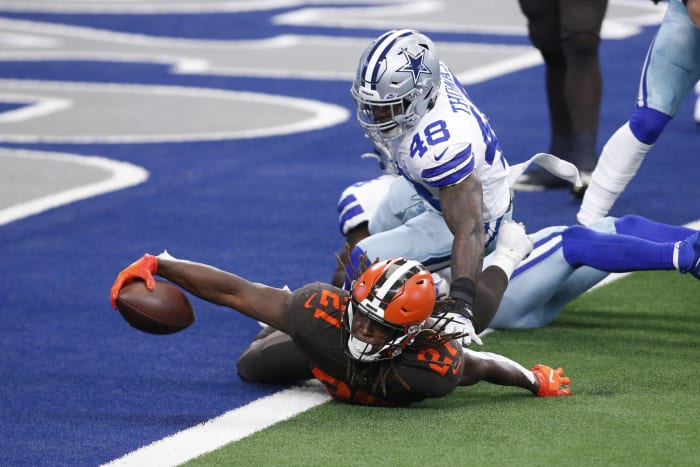 Tim Heitman-USA TODAY Sports
The Browns lost a top-five running back in the first half and still rushed for more yards than any team in the Cowboys' 60-plus-season history. Cleveland's 307-yard rushing day featured no 100-yard rusher, with Kareem Hunt and a man named D'Ernest Johnson combining for 168, and it exposed yet another major problem area for Dallas' revamped defense. After allowing Russell Wilson to do whatever he wanted in Week 3, the Cowboys (1-3) — previously 15th in run defense DVOA — further squandered their dominant passing attack Sunday. Mike Nolan's return to defensive coordinating after a six-season hiatus is not going well.
COWBOYS GRADE: C | NEXT: vs. Giants (Sun.)
3 of 32
Herbert-Brady duel points Chargers' arrow up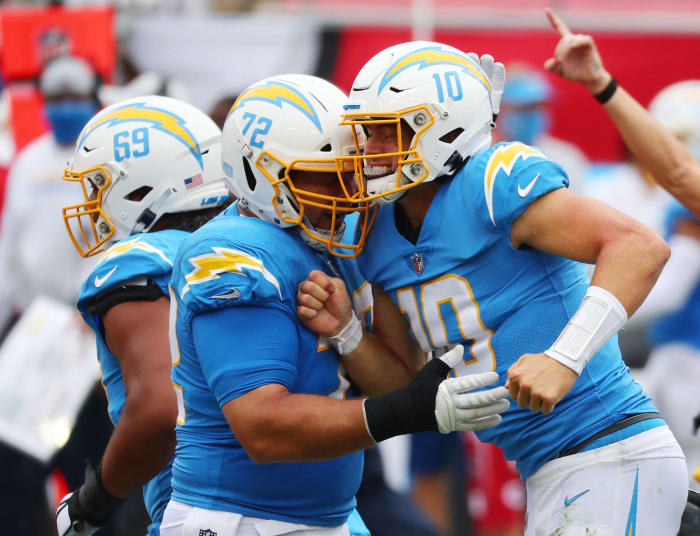 Kim Klement-USA TODAY Sports
Although the Chargers continue to tease football-following fashionistas by keeping their blue jerseys and gold pants apart, their rookie quarterback may be the real deal. Justin Herbert went punch for punch with Tom Brady for most of Sunday's loss, completing 20 of 25 passes for 290 yards and three TD passes — to practice squad promotion Tyron Johnson, XFL alum Donald Parham and UDFA Jalen Guyton. Herbert's laser to Johnson traveled 62 yards — the second-longest NFL completion over the past two seasons. Herbert is not losing his job. Although the Bolts (1-3) are not winning these games, their QB's promise points to a bright future.
CHARGERS GRADE: B-minus | NEXT: at Saints (Mon.)
4 of 32
Buccaneers witnessing history at quarterback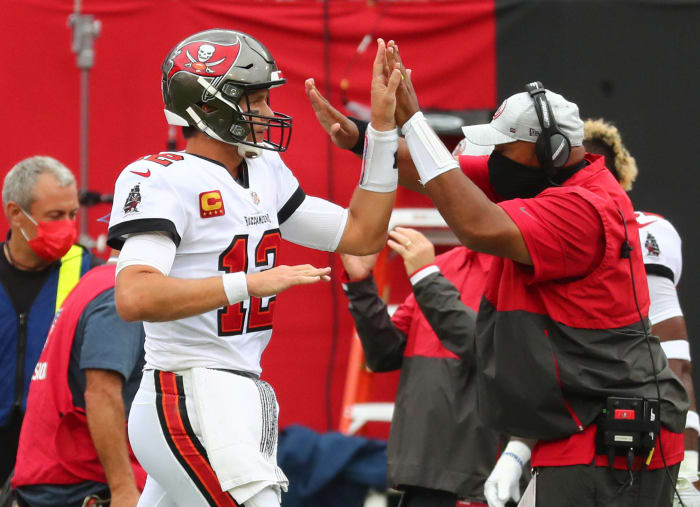 Kim Klement-USA TODAY Sports
The Buccaneers do not exactly have a strong history at quarterback. They have never had a true franchise passer (at least, not one that ascended to such heights in Tampa). Tom Brady is near the end of that status, but he dominated a Chargers team that carried a strong red zone defense into Week 4. Brady's five touchdown passes to five different targets were a career first, and he continued to show sufficient zip on his passes in Year 21. NFL history features no parallel for such an outing at age 43, and the Bucs (3-1) are starting to benefit from their free agency pitch after a sluggish start.
BUCCANEERS GRADE: A-minus | NEXT: at Bears (Thu.)
5 of 32
Dalvin Cook's reliability crucial for Vikings formula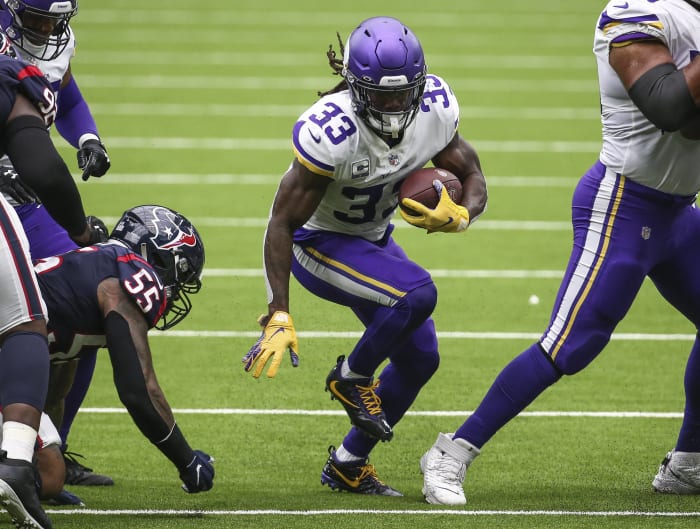 Troy Taormina-USA TODAY Sports
The injuries to running backs this season illustrate the risk the Vikings and other teams are taking by extending their RB1s at top-market rates. Cook did well to secure a $12.6 million-per-year deal, given his injury past, but showed his value for a second straight week. The Vikings, whose run game sputtered in 2018, need Cook to stay on his 2019 level for their limited formula to work this season. Cook's run-after-contact work Sunday — in a 29-touch, 146-yard, two-TD showing — showed the Vikings (1-3), amid their 2020 troubles, can still depend on their backfield ace. That will be key for a transitioning team. 
VIKINGS GRADE: B-plus | NEXT: at Seahawks (Sun.)
6 of 32
As defense stumbles, Texans are almost out of time
Troy Taormina-USA TODAY Sports
The list of 0-4 teams to make the playoffs: the 1992 San Diego Chargers. The Bill O'Brien-era Texans had a rare 0-3 rebound story, but that defense featured the All-Pro version of J.J. Watt, a Pro Bowler in Jadeveon Clowney and ranked fifth in DVOA. Kirk Cousins, who has played miserably for much of 2020, averaged 11.8 yards per attempt Sunday. The Texans' trades to change their offense are backfiring, and the franchise is paying for its lack of offseason attention on defense after last year's No. 26 DVOA finish. 
TEXANS GRADE: D-plus | vs. Jaguars (Sun.)
7 of 32
Saints passing attack finally taking shape
Raj Mehta-USA TODAY Sports
Signed to be the long-sought-after Michael Thomas sidekick, Emmanuel Sanders opened his season with 33 receiving yards in two games. But the former Broncos and 49ers Super Bowl starter showed his best chemistry with Drew Brees on Sunday. Sanders' six-catch, 93-yard day helped the Saints (2-2) drop 35 straight points on Detroit. The Pro Bowler-turned-wingman stepped up in Thomas' stead, working the mid-range and eluding Desmond Trufant on a short pass to turn a would-be field goal attempt into a touchdown drive. This bodes well for the state of New Orleans' aerial crew when Thomas returns.
SAINTS GRADE: B-plus | NEXT: vs. Chargers (Mon.)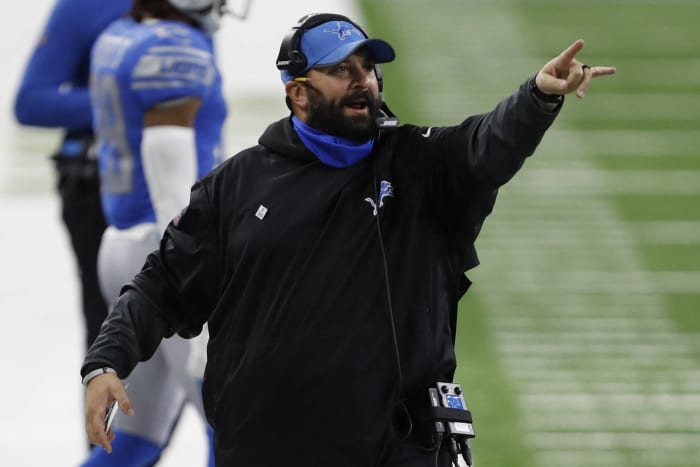 Raj Mehta-USA TODAY Sports
The Lions plateaued as a low-ceiling team under Jim Caldwell. But the Caldwell era (36-28) certainly surpasses what has followed, continuing to make the Lions' decision look bad in hindsight. Patricia's team lost another game in which it held a double-digit lead, the fifth straight instance of the Lions (1-3) possessing such an advantage and losing a game. They have lost 14 of their past 16 outings. Detroit's new ownership will can Patricia soon. An in-season firing would make the ex-Patriots assistant the shortest-tenured Lions coach since Marty Mornhinweg (2001-02). 
LIONS GRADE: D-plus | NEXT: at Falcons (Oct. 25)
9 of 32
Shaq Griffin helps depleted Hawks secondary hold up
Allen Eyestone via Imagn Content Services, LLC
Down Jamal Adams and Quinton Dunbar, the Seahawks did not project to show much improvement in coverage Sunday. They did, holding the Dolphins to five field goals. The bending-not-breaking performance featured key work from Griffin, the starter half of the Seahawks' popular twin tandem. The contract-year cornerback broke up three passes — including a touchdown-saving denial in front of Mike Gesicki — and intercepted Ryan Fitzpatrick to set up a game-sealing TD. The Seahawks (4-0) need more from their assortment of trade acquisitions in the secondary, but this sans-Adams outing will do.
SEAHAWKS GRADE: B | NEXT: vs. Vikings (Sun.)
10 of 32
Dolphins yet to see payoff from corner investments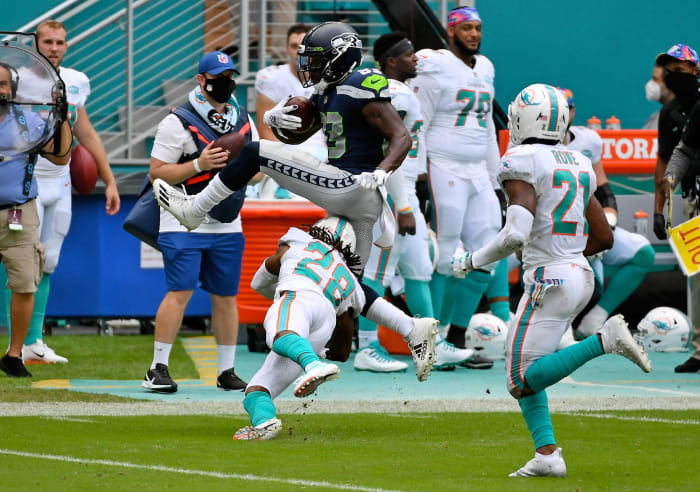 Jasen Vinlove-USA TODAY Sports
Carrying two top-five cornerback contracts and a first-round rookie at the position, the Dolphins reverted to their coverage struggles Sunday. They have sorely missed high-priced free agency get Byron Jones, who missed most of Josh Allen's Miami dominance and all of Russell Wilson's. The Dolphins (1-3) held Tyler Lockett to 39 receiving yards; Wilson still doused them for 360. First-rounder Noah Igbinoghene was the culprit on key Wilson strikes, including a David Moore score. The Dolphins need to see their Jones-Xavien Howard pair together to help Igbinoghene assimilate — the plan before Jones' groin injury.
DOLPHINS GRADE: C-minus | NEXT: at 49ers (Sun.)
11 of 32
Jaguars somehow make Bengals O-line look good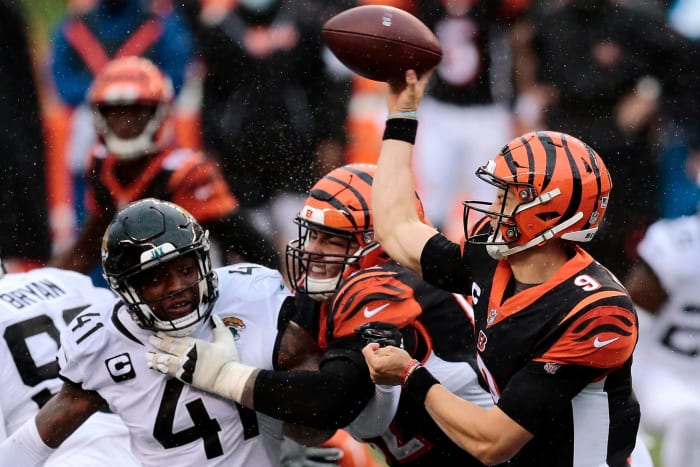 Sam Greene via Imagn Content Services, LLC
If the Jaguars' fall from the Super Bowl LII doorstep to this is unqualified for a 30 for 30 Short, it at least warrants an "NFL Films Presents" piece. Gardner Minshew can mask Jacksonville's defensive descent, but its outing in Cincinnati shows how far it has fallen. The Jags, who concluded the stripping of "Sacksonville" parts this offseason by trading Calais Campbell and cutting Marcell Dareus, sacked Joe Burrow once and allowed Joe Mixon to glide to a career day. While the Jags (1-3) lost Myles Jack and corners C.J. Henderson and D.J. Hayden during the game, their defense is on pace to allow franchise records in points and yards.
JAGUARS GRADE: D-minus | NEXT: at Texans (Sun.)
12 of 32
Mixon furthers big day for 2017 RB class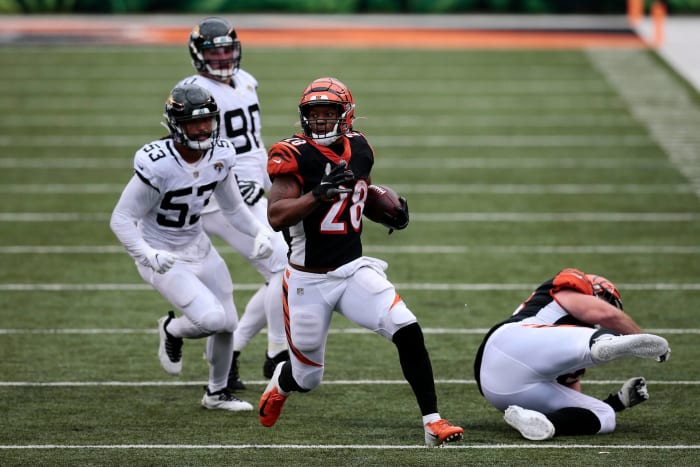 Sam Greene via Imagn Content Services, LLC
While some members of 2017's standout running back class remain in search of new deals, Mixon joined Christian McCaffrey, Dalvin Cook and Alvin Kamara in securing a high-end extension. Despite playing behind the 1-3 Bengals' bottom-tier offensive line, Mixon smoked the Jaguars for a career-best 181 scrimmage yards while playing through a chest injury. The once-controversial draft pick has become the best Bengals back since Corey Dillon, and posting these kind of games without the amenities Kamara, Cook or Aaron Jones enjoy adds a layer to Mixon's under-the-radar success.
BENGALS GRADE: B-plus | NEXT: at Ravens (Sun.)
13 of 32
Arizona offense sputters in prime spot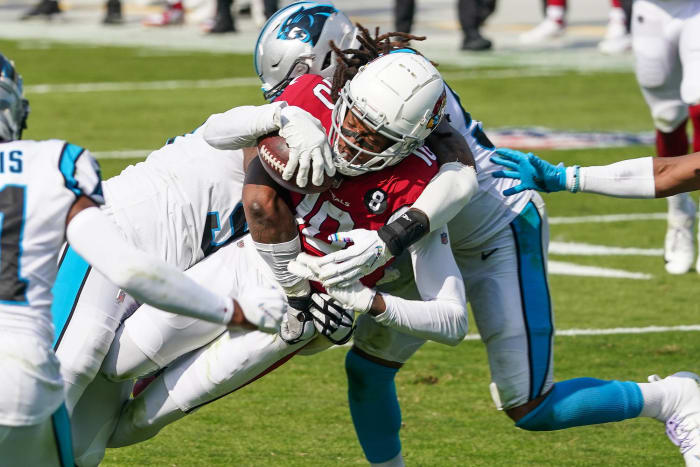 Jim Dedmon-USA TODAY Sports
Entering Week 4 30th in DVOA, the Carolina defense represented a chance for Arizona's offense to bounce back. The Cardinals (2-2) did not do so and delivered their worst showing this season. Kyler Murray's bevy of checkdowns followed his three-INT day against the Lions, and his career-worst 4.3 yards per attempt Sunday is concerning. Kenyan Drake has thus far not proven worthy of the transition tag salary ($8.5 million), applying more pressure to DeAndre Hopkins to carry this offense — a familiar role for the All-Pro. The Cards have work to do to be a legit threat in the NFL's premier division.
CARDINALS GRADE: D-minus | NEXT: at Jets (Sun.)
14 of 32
Bridgewater moving Panthers out of Lawrence race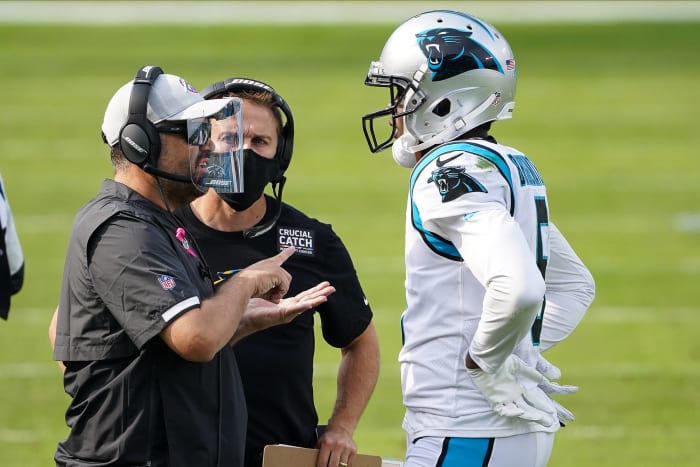 Jim Dedmon-USA TODAY Sports
After back-to-back solid showings, the Panthers (2-2) are off the Trevor Lawrence grid. Matt Rhule's team entered the season as a prime candidate to vie for the Clemson prize, but Carolina's Teddy Bridgewater deal has raised the team's floor. The ex-Vikings starter continues to display a rapport with Robby Anderson, and new Panthers offensive coordinator Joe Brady fired up quality red zone misdirection plays to free up Bridgewater targets. Bridgewater's deft 18-yard TD run further showed his capabilities in his first starting chance since his career-defining injuries four years ago.
PANTHERS GRADE: A-minus | NEXT: at Falcons (Sun.)
15 of 32
Workmanlike Ravens effort features aerial rebound
Brad Mills-USA TODAY Sports
This was not an especially sharp Ravens performance, but it was important to see their offense resurface after its Week 3 letdown. Lamar Jackson hit Mark Andrews for two TDs and also connected downfield with Marquise Brown — with five of his seven completions to his top duo going for at least 18 yards — after failing on both fronts against the Chiefs. The Ravens winning by two scores in a game in which its running backs totaled 88 rushing yards is a plus, no matter the opponent. Especially in a game without stalwart left tackle Ronnie Stanley.
RAVENS GRADE: B-minus | NEXT: vs. Bengals (Sun.)
16 of 32
Gibson gives Haskins badly needed second weapon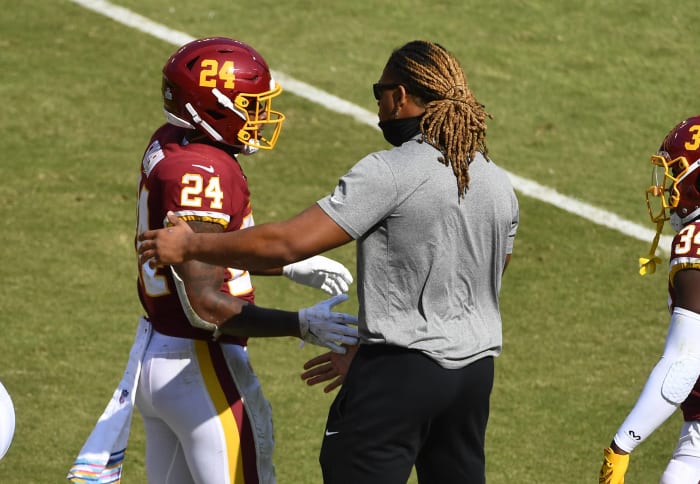 Brad Mills-USA TODAY Sports
A fantasy buzz player this summer, Antonio Gibson is a key NFL cog after just 77 touches in two Memphis seasons. The oddly fresh back showed more promise against a top-tier defense, totaling 128 yards on 17 touches. Washington (1-3) did well to design quick-passing concepts for Gibson, helping the embattled Dwayne Haskins. For Haskins to have any shot of surviving this season as Washington's starter, Gibson needs to play a lead role. A team that has failed with running back prospects — from Derrius Guice to Matt Jones — as of late needs a non-Terry McLaurin weapon to help its quarterback.
WASHINGTON GRADE: C-minus | NEXT: vs. Rams (Sun.)
17 of 32
Saquon-less Giants present dreadful offense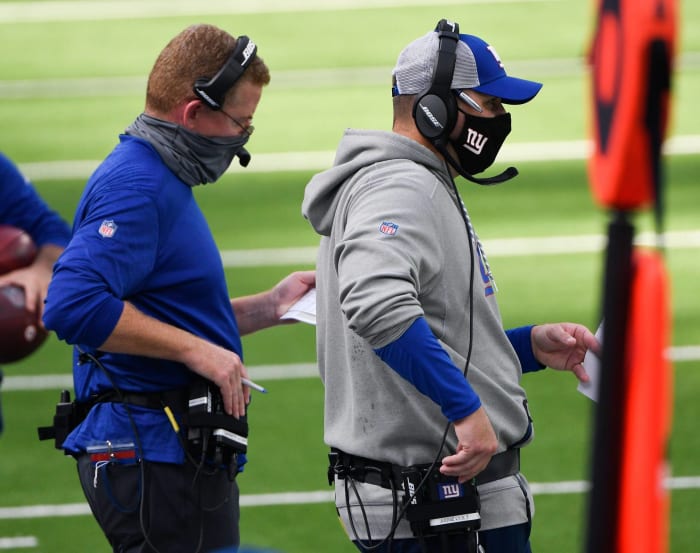 Robert Hanashiro-USA TODAY Sports
Saquon Barkley and Sterling Shepard's absences have not made it easy, but other teams are dealing with major injuries too. The Giants have regressed on offense under Jason Garrett, with Sunday's station-to-station outing the latest visual evidence. The Giants (0-4) actually managed 136 rushing yards (though, Jones accounted for 45 of those) but saw their quarterback average a season-low 5.3 yards per pass. Entering the game last in offensive DVOA, the Giants are not showing strides in a key developmental season for their quarterback.
GIANTS GRADE: C | NEXT: at Cowboys (Sun.)
18 of 32
Rams offense joins in alienating viewers
Robert Hanashiro-USA TODAY Sports
The Giants, however, fared far better than the Bills in containing the Rams in a low-energy game. Los Angeles punted five times against a Giants defense that had allowed the 49ers their first no-punt game since the Steve Young era. A James Bradberry misplay allowed Cooper Kupp to salvage Jared Goff's day with a 55-yard catch-and-run TD, but the Rams (3-1) failed to take advantage of one of the NFL's worst units. New York's underrated defensive line limiting Los Angeles' ground attack to 58 yards reminded of last year's unreliable offense. And it showed Sean McVay's crew has work ahead.
RAMS GRADE: C | at Washington (Sun.)
19 of 32
Amid Josh Allen's rise, Bills defense remains capable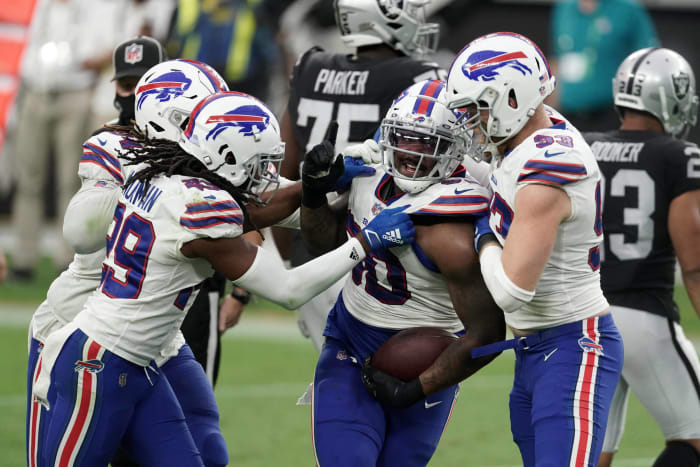 Kirby Lee-USA TODAY Sports
Although the Raiders were missing their top two wide receivers, the Bills made sure their offense had enough time to secure a Week 4 win. Offseason signings Josh Norman and Quinton Jefferson forced second-half fumbles, and Ed Oliver beat veteran Raiders guard Gabe Jackson to stop Josh Jacobs on a fourth-quarter fourth down. This production from a somewhat retooled Bills defense helped the team to its first 4-0 start in 12 years. Buffalo's shaky run defense held Jacobs to a season-low 48 yards. If run defense can become a Bills plus, this team could have its highest ceiling since the K-Gun years.
BILLS GRADE: A-minus | NEXT: at Titans (Sun.)
20 of 32
Raider defense underwhelms in big spot
Stephen R. Sylvanie-USA TODAY Sports
After causing some "What's wrong with Drew Brees"-themed TV segments in their previous Las Vegas game, the Raiders (2-2) showed concerns on defense Sunday. An annual problem, the Raiders defense allowed Allen to complete 71% of his passes. Although Las Vegas limited Buffalo's run game, its pass rushers gave Allen too much time in a one-sack showing. Perhaps the defense's biggest-picture concern: 2019 No. 4 overall pick Clelin Ferrell. He is sackless through four games and is still sitting on 10 QB hits in 19 career contests. The Raiders essentially replaced Khalil Mack with Ferrell; that is not going well.
RAIDERS GRADE: C-minus | NEXT: at Chiefs (Sun.)
21 of 32
Another completed task for Colts defense
Mike Dinovo-USA TODAY Sports
Like the Vikings and Jets, the Bears are not a top-tier offense. But they entered Sunday 3-0 and had orchestrated two improbable rallies to secure that record. The Colts' No. 1-ranked defense passed another test, shutting down any "Nick Foles is back" headlines and holding Chicago to just 29 rushing yards. Indianapolis has assembled this unit despite safety Malik Hooker and would-be edge starter Kemoko Turay. This provides a crucial safety net for a team that has lost starting running back Marlon Mack and its Nos. 2-3 wideouts. This sets up perhaps the biggest Colts-Browns game in almost 33 years (seriously).
COLTS GRADE: A-minus | NEXT: at Browns (Sun.)
22 of 32
Bears still searching for QB stability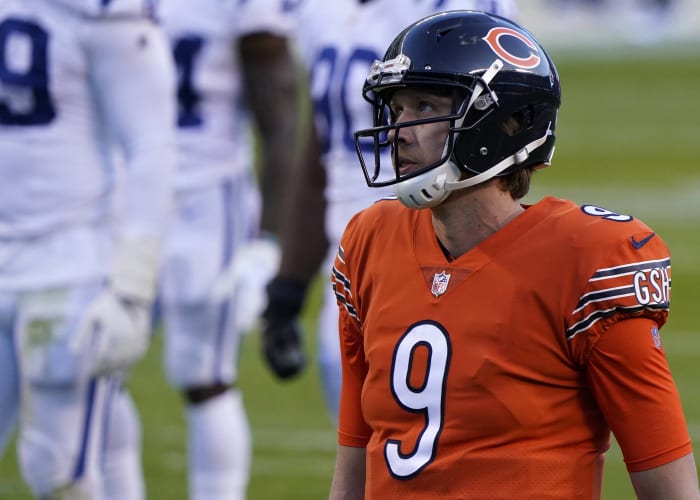 Mike Dinovo-USA TODAY Sports
Foles' latest QB1 effort left the Bears (3-1) with three points until late in the fourth quarter. Matt Nagy turning his new starter loose on non-play-action passes reminded viewers of the Bears' true standing. Foles followed up his Atlanta spark by averaging 5.9 yards per attempt — a figure elevated by a last-ditch drive during which he went 8-for-8 — and signaled Mitchell Trubisky should not be considered out of the mix. Nagy deserves a fourth season and a true quarterback hope, but Sunday's result showed 2020 will likely require a familiar formula for Bears victories.
BEARS GRADE: D | NEXT: vs. Buccaneers (Thu.)
Kyle Terada-USA TODAY Sports
Thirty-first in QBR entering Sunday night, the Eagles quarterback threw his NFL-worst seventh interception of the season. But he managed to account for 230 yards despite the following: 1. Zach Ertz caught four passes for nine yards; 2. The Eagles are missing all three starting wideouts and potential breakout tight end Dallas Goedert; 3. Three starting offensive linemen (two Pro Bowlers) are out, and a fourth (Pro Bowl right tackle Lane Johnson) left the game for a while. Stealing a win in San Francisco under these conditions, to rise to an NFC East-leading 1-2-1, is borderline miraculous for the fifth-year passer.
EAGLES GRADE: A-minus | NEXT: at Steelers (Sun.)
24 of 32
49ers pieces re-emerging
Kyle Terada-USA TODAY Sports
George Kittle emphatically displayed his "Best tight end alive" credentials in a 15-reception, 183-yard night. The 49ers (2-2) seeing scant rust from their all-world pass catcher is obviously critical to the slowly recuperating team making a legit playoff charge. Scheming Kittle touches was smart of Kyle Shanahan; so was his different approach with Deebo Samuel. With the 49ers' No. 1 wideout back after a much longer absence, using him sparingly (four touches, 45 yards) was the right move for a team still missing key offensive pieces. But its top two returning represents a bridge to this bizarre chapter ending.
49ERS GRADE: C-plus | NEXT: vs. Dolphins (Sun.)
25 of 32
At last, some good news in Denver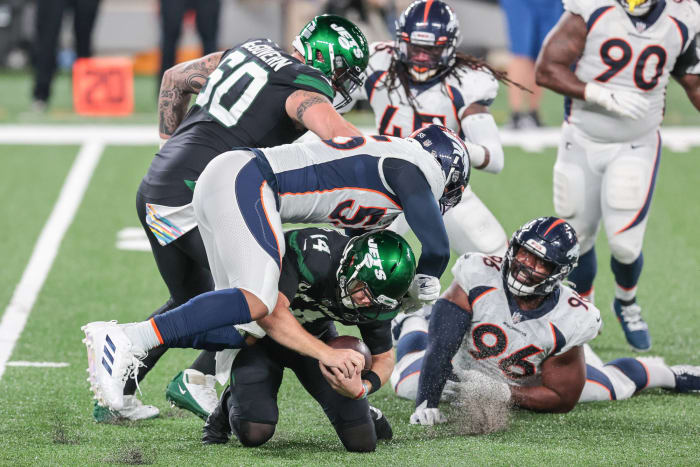 Vincent Carchietta-USA TODAY Sports
The AFC's injury kingpins escaped New Jersey with a win and saw an important step from its top long-term defensive piece. While Von Miller is injured ahead of a contract year, Bradley Chubb is the Broncos' future defensive cornerstone. His ACL recovery appears complete, after a 2.5-sack, five-QB-hit performance. Denver has not featured its Miller-Chubb duo since September 2019, and with Miller's future uncertain, the Broncos (1-3) needed to see Chubb return to his 12-sack rookie-year form. While they have plenty invested in young talent offensively, the Broncos lack many defensive building blocks.
BRONCOS GRADE: B | NEXT: at Patriots (Sun.)
26 of 32
Healthy Jet pass catcher not helping cause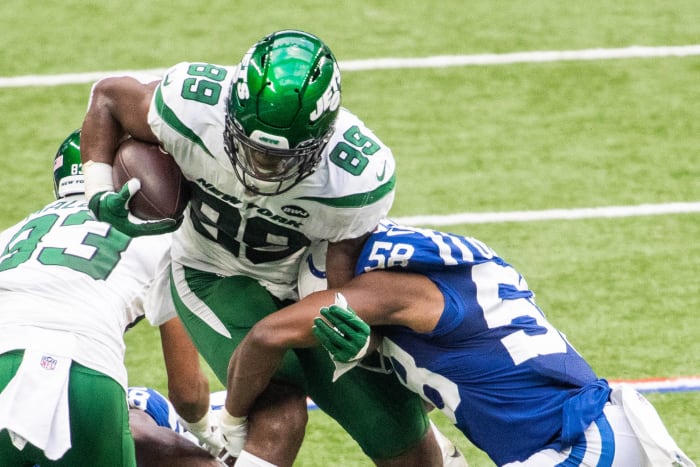 Trevor Ruszkowski-USA TODAY Sports
Battered at wide receiver, running back and now tackle, the Jets could use some help from still-healthy starters. They are not getting much from one of them. The Jets (0-4) have attempted to utilize Chris Herndon, a third-year tight end who shined in training camp after an injury-marred 2019. But it just has not amounted to much. The swift pass catcher is sitting on 11 catches (on 19 targets) for 74 yards. Among 2020 tight ends, that yardage figure ranks 34th. Herndon's 502 yards in 2018 were third-most by a Jets rookie tight end. 
JETS GRADE: C-minus | NEXT: vs. Cardinals (Sun.)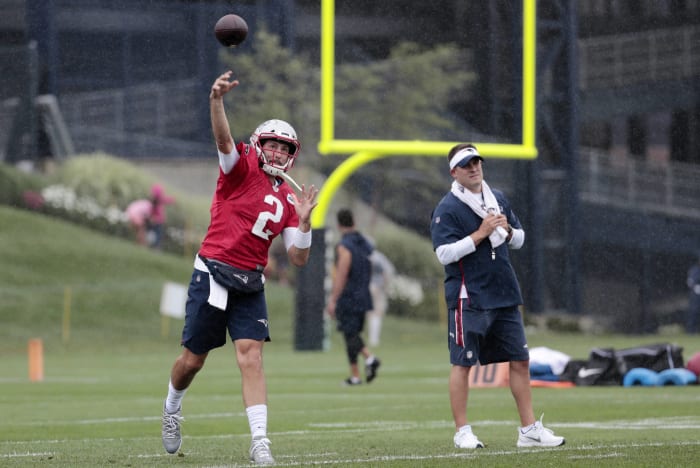 Fred Kfoury III-Icon Sportswire
The Patriots will play at least two games without their starting quarterback, potentially more, during a stretch that may define their season. Beyond the more important concerns about additional Patriots positive COVID-19 tests, Newton's will thrust Brian Hoyer into action. Despite being on Patriots stint No. 3, the 35-year-old journeyman has never thrown more than 13 passes in a Pats game. New England lacks the roster strength it had during its 3-1 Deflategate stretch without Tom Brady. The Pats face the 49ers in Week 6 before their Buffalo trip. Their 11-year AFC East title streak appears at risk early.
MONDAY: at Chiefs, 7 p.m. ET
28 of 32
Unorthodox Chiefs hire paying off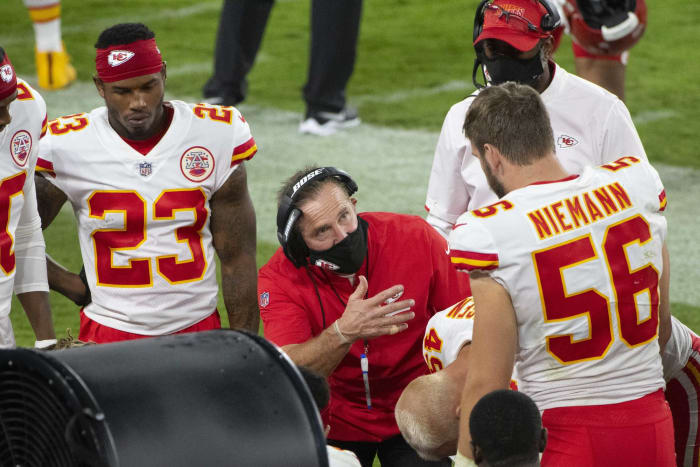 Tommy Gilligan-USA TODAY Sports
Hoyer must navigate a Chiefs pass defense that has played better than its Super Bowl version, despite inferior personnel. Kansas City ranks fifth in pass defense DVOA, after injecting some new doubt about Lamar Jackson's chances of lifting the Ravens to a Super Bowl. The Chiefs did this despite being down their top two cornerbacks from an already-modest group. When they hired Steve Spagnuolo in 2019, he had led 31st- or 32nd-ranked defenses in three of his previous five seasons. With the Chiefs the rare team to boast a top-end pass offense and pass defense, the move looks like a masterstroke.
MONDAY: vs. Patriots, 7 p.m. ET
29 of 32
At the other end of the defensive spectrum…
Pool Photo-USA TODAY Sports
Aaron Rodgers' early-season eruption has an excellent chance of extending to four games Monday. The Falcons became the first team to surrender two 15-plus-point fourth-quarter leads in one season last week and are down starting safeties Keanu Neal and Ricardo Allen and two of their top three corners. First-round pick A.J. Terrell remains on Atlanta's reserve/COVID-19 list, and the Falcons placed veteran Darqueze Dennard on IR last week. Their other starter, third-year man Isaiah Oliver, has not proven reliable. Hopefully you saved lineup spots for your non-Davante Adams fantasy Packers.
MONDAY: at Packers, 8:50 p.m. ET
30 of 32
Packers refortify offensive line
Dan Powers/USA TODAY NETWORK-Wis via Imagn Content Services, LLC
Another reason for Rodgers' success: Green Bay will enter Week 4 ranking first in Football Outsiders' top run-blocking metric (adjusted line yards) and third in adjusted sack rate. The Packers have allowed Rodgers to be sacked twice, while Aaron Jones has averaged 6.1 yards per carry. While Corey Linsley — Pro Football Focus' top-rated center this season — and ace left tackle David Bakhtiari have long protected Rodgers, Green Bay has found a gem in 2019 second-round guard Elgton Jenkins and has seen positive results from guard substitute Lucas Patrick and free agent right tackle Rick Wagner.
MONDAY: vs. Falcons, 8:50 p.m. ET
31 of 32
More ammo for Steelers' defensive revival
Philip G. Pavely-USA TODAY Sports
Despite Vince Williams having played three games, he leads the NFL in tackles for loss. The veteran Steelers off-ball linebacker has eight TFLs — already just three shy of his season-high. Pittsburgh minimized Williams' role last season, due to coverage limitations, playing the run-stopper on just 37% of its defensive snaps. This year, he's at 71%. Ryan Shazier's former running mate has returned to being a key part of the Steelers defense, which has become one of the league's best over the past season and change.
NEXT: vs. Eagles (Sun.)
32 of 32
Titans mess overshadows all else
Christopher Hanewinckel-USA TODAY Sports
The Titans have exposed the foreseeable problem of 150-plus players, coaches and staffers going through the season in a non-bubble setup. The team is up to 20 positive tests less than a week after the initial outbreak surfaced. The NFL and NFLPA erred by not seriously considering regular-season bubbles this offseason. It is now hard to see the league making it through the regular season with each team playing 16 games. While the NFL has seen its teams play an equal number of games in every season since 1935, the league will have its hands full if it tries to push this setup to January. The Titans' Week 5 status will be a key NFL domino.
NEXT: vs. Bills (Sun.)